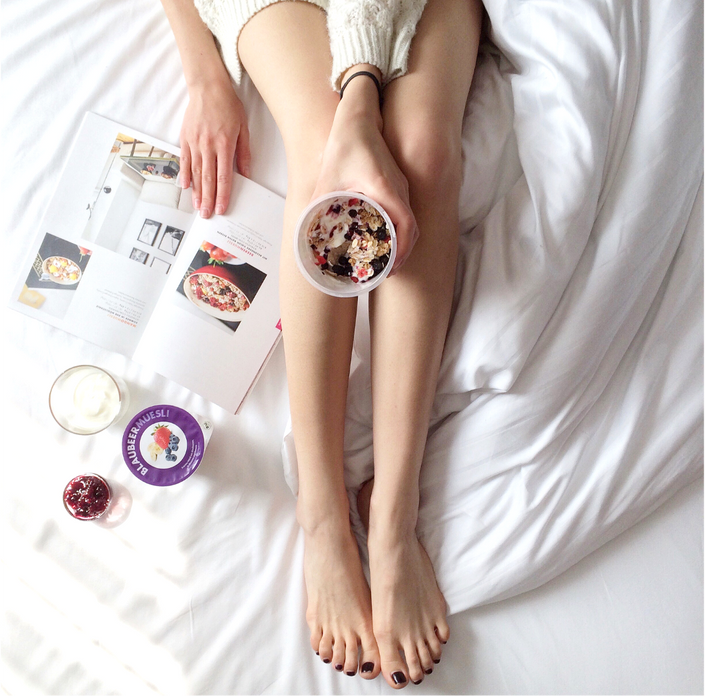 Fast Track to Financial Freedom
An Untold Story of How an Ordinary Woman Achieved Financial Freedom in Just 26 Months & How YOU Can Too (+ 31 Proven Strategies)
Did you know that you can become FINANCIALLY FREE in just 3 - 5 years (or less)?
Hello, I'm Millie Leung!

In this easy-to-follow 100-page eBook, I share with you my untold story of how I achieved financial freedom in just 26 months (even though I didn't have money, know-how, resources, or network when I started).


Plus, how I built 10+ streams of passive income and
31 proven strategies for you to do the same
so you can live your dreams!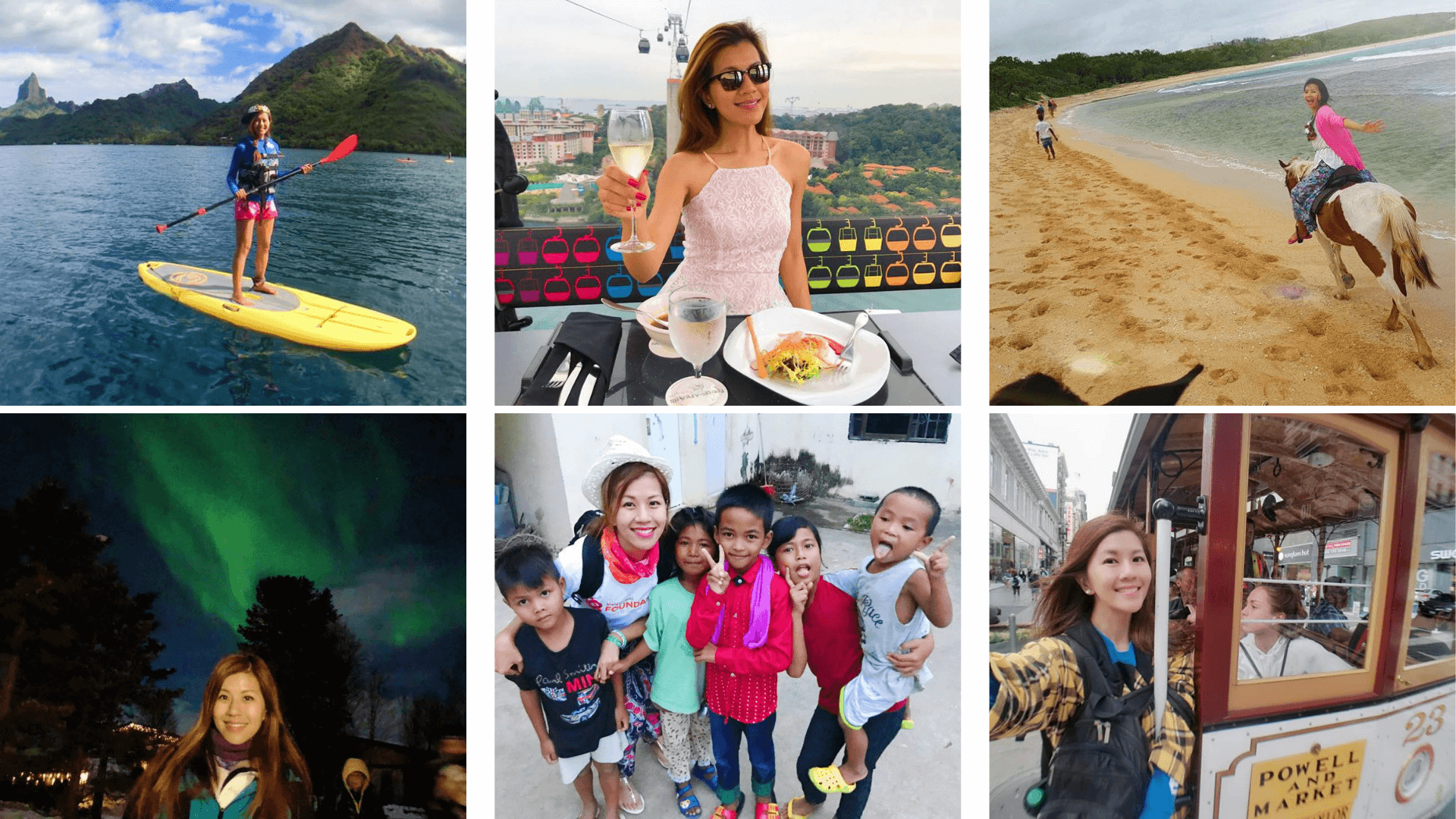 Introducing my BRAND NEW eBook...
FAST TRACK TO FINANCIAL FREEDOM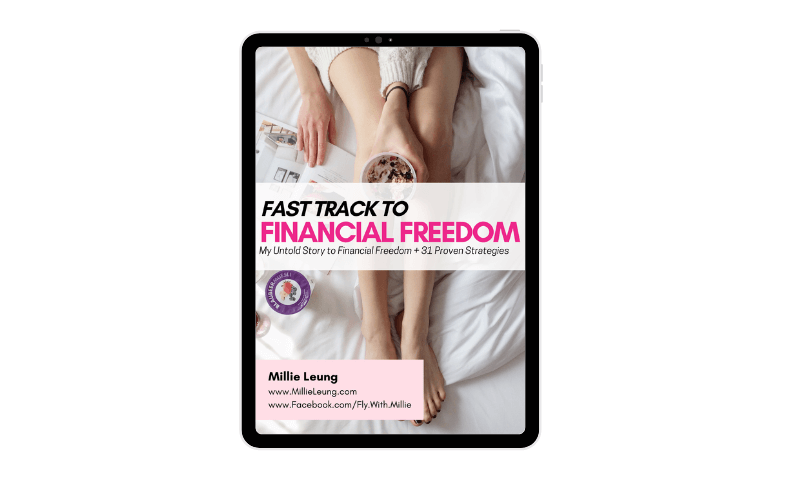 At the end of this eBook, you will learn...
How I fast-tracked my finances and shredded DECADES to become financially free in just 26 months (even though I didn't have money, know-how, resources, or network when I started)


My easy-to-follow 5-Step Passive Income Accelerator System to accelerate your financial independence


How I built my 10+ passive income streams (and adding 1 to 2 new streams per year)


+31 proven strategies for you to do the same


Money wisdom that was never taught in school


++ BONUS resources


100 pages of golden nuggets
Go to school, get good grades, get a good job, work hard, save hard, invest in a diversified portfolio of mutual funds, and retire at the age of 65 years old...?
This is how most of us have been taught.
We believed that the way to "retire" is to work, earn money, and accumulate millions of dollars such that when we are 65 years old (or older), we can finally retire and do what we truly want.
The problem with this "traditional formula of success" is that it takes DECADES to achieve - meanwhile, we're working 40, 60, 80, or even 100 hours per week, trading time for money.
Besides, by the time we "retire" at 65 years old, our physical condition may no longer allow us to do what we truly want.
Plus, what if there are unexpected incidents, such as economic downturns, personal illness or injuries, job lay off, etc.
In which case, your retirement plan would be further delayed.
Could you imagine still working in a job when you are 75 years old and without the option to retire?
That idea is daunting.
Fortunately, there is a simpler (and much more achievable) way!
It's possible to become financially free
within 3 - 5 years (or less)
What would you do with your life if you no longer need a job?
Would you...
Spend more time with your children?

Start a new passion project?

Travel the world with your spouse/partner?

Take those dance lessons you've been dreaming about for years?

Spend more time with your parents?

Volunteer at your local non-profits?

Connect with your long-lost friends?

Donate and build schools for underprivileged children?

Check off your bucket list items one by one?

Start a soul-centered, heart-driven business?

Or simply relax and enjoy life a little more...

Whatever your answers are, I'm sure you can think of 100+ wonderful and meaningful ways to spend your time.
When you become financially free, you can choose to spend time doing what you want, with whom you want, and be where you want.
To me, that is priceless!

You can live your dream life.
All you have to do is to believe and get started.
Hi, I am Millie Leung.
I teach people how to fast-track their financial independence and live a life they truly want.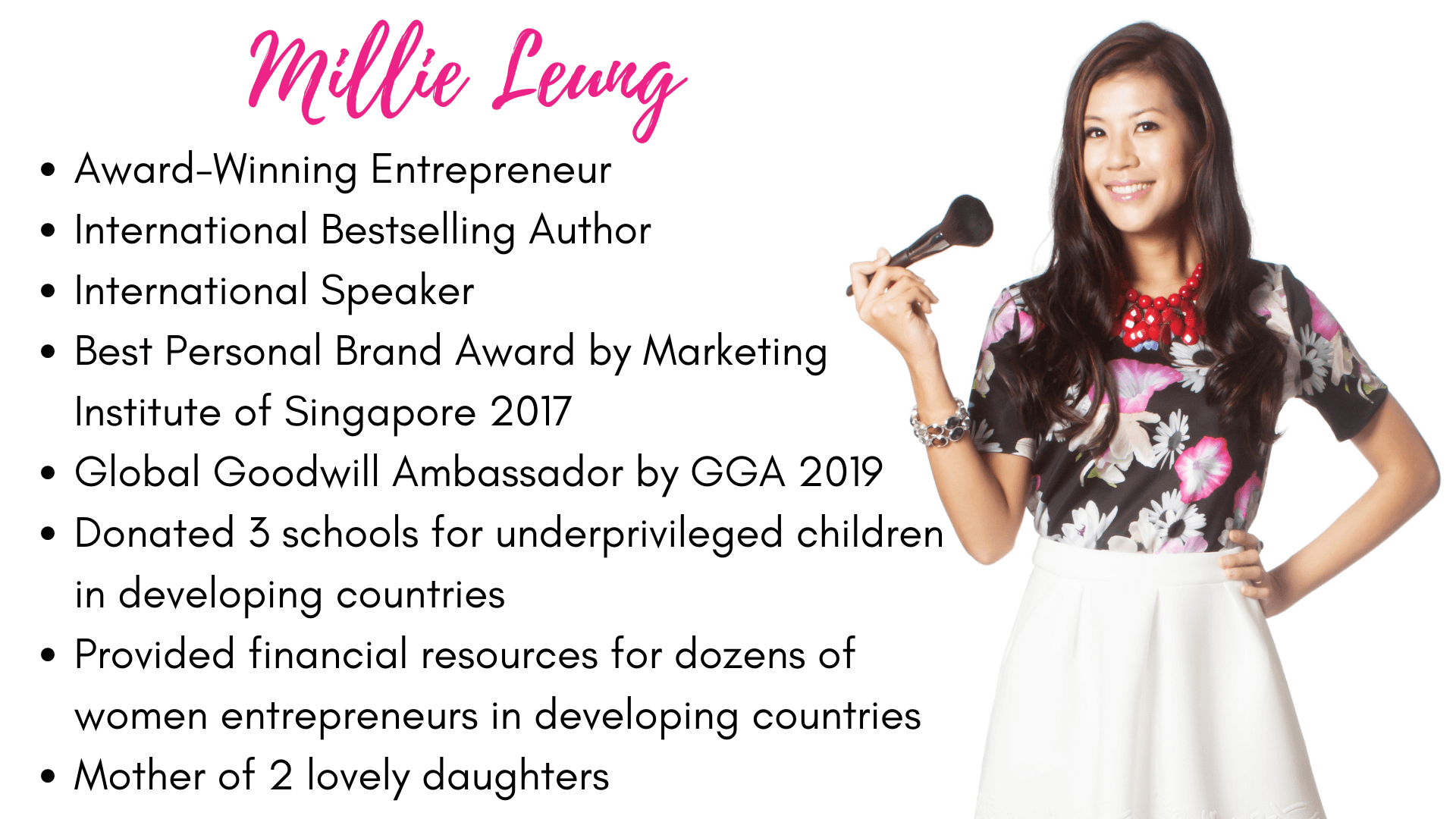 Millie Leung is an award-winning entrepreneur, business mentor, bestselling author, international speaker, and advocate for women's empowerment.
In the Year 2011, with no money, little time, no specialized skills, no resources, and no network, Millie started her journey towards financial independence. She dived deep into learning about personal finance, investing, and entrepreneurship.
Within just 26 months, she has become financially free.
Today, Millie is often invited to speak on international stages with audiences from a few hundred to 24,000+, sharing her journey and lessons, with the aim of inspiring, educating, and challenging her audience to start living their dreams.
Millie's book 'Mind and Money Makeover' is an international bestselling book. She is the winner of the 'Best Personal Brand Award 2017' and she has been appointed as the Year 2019 'Global Goodwill Ambassador' by GGA for the humanitarian work she does.
Millie is also the creator and host of the Shine To Impact Podcast and YouTube channel.
Millie is passionate about helping women build a passion-driven, impactful, and profitable business, become financially independent and create a life they truly love.
When Millie is not speaking on stages around the world or mentoring women, you will find her reading her favorite books or traveling the world with her loved ones.
Millie speaking in front of 24,000+ people at AT&T Stadium (USA)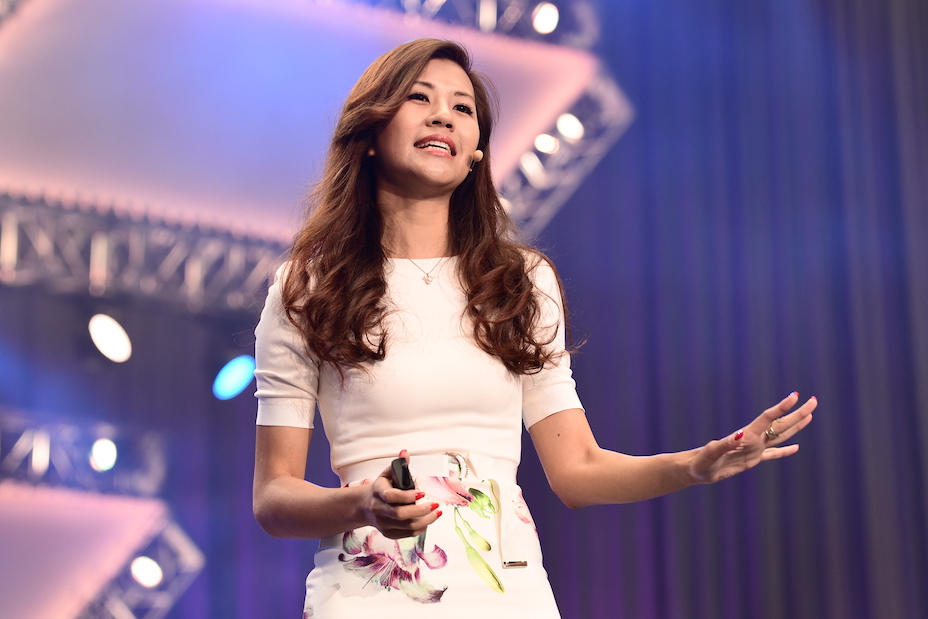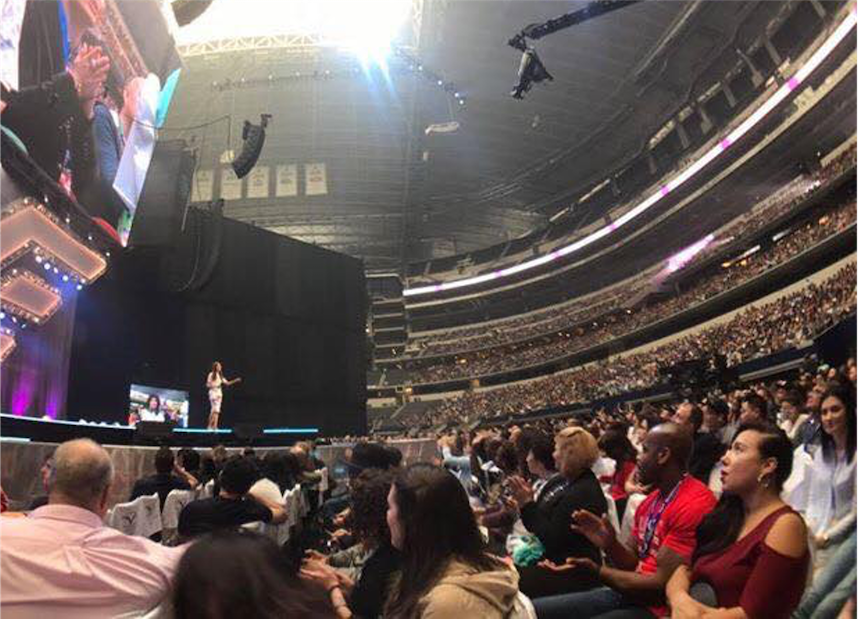 Millie accepting the Best Personal Brand Award by Marketing Institute of Singapore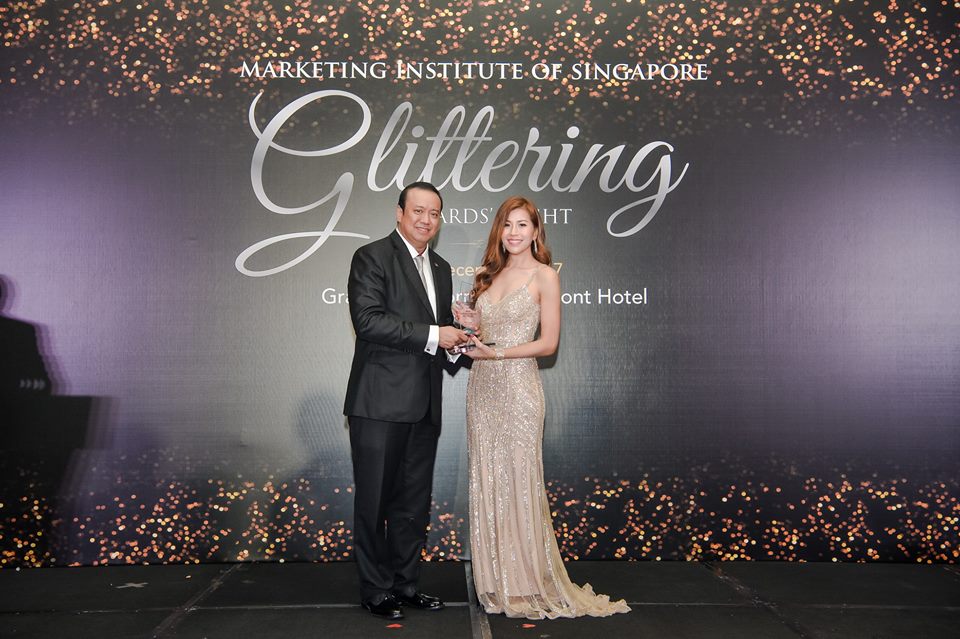 Frequently Asked Questions
When do I get access to this eBook?
Once you complete payment, you will get IMMEDIATE access to the eBook.
Do you offer refunds?
Due to the nature of the digital products, the sale is final and no refund will be issued once you are purchased. All content will be released at once. We truly believe in giving more than receiving and each of our products is designed by keeping this core principle in mind. For some reason, if your plans do change and you're not available now - don't fret! You're always welcomed to come back anytime. Here, we would like to ensure that you walk away feeling 100% happy about your decision and experience transformational change with us during this journey. We always welcome feedback so do drop us a line - our door is open.